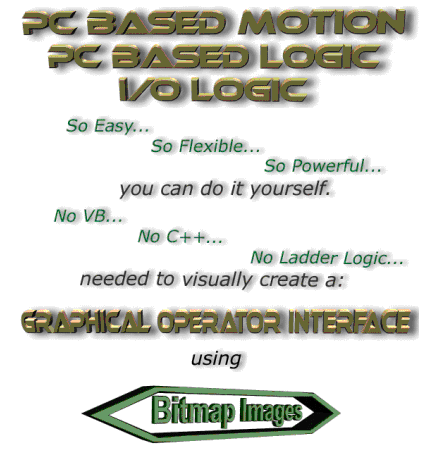 Philosophy of CamSoft's Open PC Based Control
Serviceability, Upgradeability, Parts Supply Chain, Logic and Installation Time

From a general sense we are speaking about a philosophy that divides the models of CNC controllers into two categories. Ones that are made by a manufacturer that use proprietary parts opposed to the philosophy of an open, flexible PC Based control system that uses non-proprietary off the shelf, store bought Windows based computers and boards offered by multiple vendors.

Using a proprietary system means that the manufacturer is the sole source for parts and service, years from now. Usually there are no cheap parts plus service calls are expensive. The philosophy that CamSoft has is that we feel it's better to use off the shelf computers and boards that can be purchased by the end user directly from multiple sources in the United States and Canada. We believe it's best to have multiple companies to shop from. That allows you to shop around if you need parts years from now. We also have dozens of service people in the United States and Canada plus a few in Europe and Asia. For example if your machine goes down on a Saturday, you could literally use another office computer to get yourself going again. Ask yourself how long would it take to get a part and a service call from a proprietary controller? Also think of the cost difference in PC parts versus proprietary parts.

CamSoft systems are scalable, meaning user upgradeable and user serviceable. We have a generous software upgrade policy. Once a proprietary controller is installed, ask about the cost to add extra linear axes, rotary axes, new pendants, graphics, more I/O , memory storage, Network connections, CAD Links or extra G and M codes.

Generally speaking it would take only 1/4 to 1/2 the time to install a PC based controller over a proprietary controller that still uses physical PLCs and ladder logic. The more complicated the machine's logic gets the bigger our advantage since the PC becomes the PLC and does the logic in the computer. No need to trace down the old wires and decipher ladder logic PIC or PAL programs to figure out how they worked. Most retrofitters of proprietary controls almost always quote new PLCs which cost thousands of extra dollars to purchase, install and program.

We include dozens and dozens of pre-written logic routines in plain text files on our installation CD. With our vast library of dozens of pre-written logic routines available to you for just about every tool changer, turret, jog stick, hand wheel, homing routine, spindle type or probe, you can relax and forget about ladder logic.

CamSoft offers a much easier logic programming method using simple commands that are referenced by terminal strip number or descriptive names. This method is preferred by installers who need to diagnose, modify and test the logic before they begin physical wiring. This is the only method that allows remote I/O logic diagnostics via the internet. We have our own I/O logic, which is much easier than learning PLC ladder logic. It even provides for very complex multiple I/O threads whereas ladder logic is sequential and only branches off. Hundreds of every type of command including IF THEN, LOOPS, TIMERS and WAITUNTIL are provided in simple to read text files that compile when the system starts. We use several manufacturers' I/O boards to give a wide choice of inputs/outputs. CamSoft wrote its own assembler drivers to access these cards in the unprecedented 10 KHz range.

Most retrofitters of proprietary controllers may also quote new motors and drives, even if the existing motors are still working simply because they can't communicate or talk to just any motor type. They prefer to replace the motors and amps because the signals are not the same or they would face a servo tuning problem. With CamSoft we offer an automatic self tuning program for all types of motors that are AC, DC, Brush, Brushless, PWM, Hydraulic or Stepper. Keeping your existing motors and drives would save thousands of dollars in hardware and mounting cost.
Reasons to go with CamSoft....
For both CNC and General Factory Automation

We offer the best prices for OEMs and dealers. We have four software packages.
(a) CNC Professional: For the serious machinist who wants the best.
(b) CNC Plus: Good Functionality and Good Value.
(c) CNC Lite: If quality and price are what you are looking for.
(d) Graphical Operator Interface: For all general automation and non-CNC applications.


Your choice of turnkey or do-it-yourself components.

Packages for the OEM, Retrofitter, System Integrator or End user. Turnkey, ready-to-mount professional CNC enclosures or separately sold software and hardware components. Spare parts are based on off-the-shelf PC sources. In case of future repair, the system is based on a standard Windows PC design and spare parts are available from many sources. You can also keep your existing motors. The obvious benefit is consistency from job to job utilizing one software package for all machine types. You can become proficient at CamSoft and you do not need to continually address learning curves.


Easy installation.

We have an open PC based system that is user configurable without the need for Visual Basic, C++ or learning ladder logic unless you want to use our API DLLs. Therefore, our system is much easier to install yourself and configure the screens and logic by a regular person with only the knowledge of how to use Microsoft Windows 95, 98, ME, NT, 2000, XP, Vista, 7, 8, or 10. No third party digital I/O ladder logic software is needed.


Experience.

Our company experience and know how servicing America's largest corporations, Government facilities and Universities with over 8,000 systems sold worldwide since 1981 is a comforting factor.


Picture-to-part, Graphics-to-motion.

This is the only system available with our own integrated CAD/CAM, which means the graphics on the CAD/CAM screen is shared with the CNC Controller. There is no need to write, save or load G code programs unless you want to. The picture on the screen can come from many CAD file formats, which may be turned into motion without post processors or G code. Many company managers and owners like this idea better.
Still be able to run your pre-existing old G code part programs.
We accept over 700 formats of G&M codes from most other CNC controls, not just Fanuc. In a retrofit of on older machine tool you can configure the G and M code tables to allow existing old programs to run in the new PC based controller without re-writing or editing them. Then, within 10 seconds, switch to a more modern G code standard.


Dual 32-bit CNC controller for mold makers and high speed machining.

The fastest system available using Dual 32-bit processors. We close the servo loop with a dedicated 32-bit processor in hardware, not in Windows.


Patented Proprietary Integrated 3D and 5-axis Tool Compensation Technology.

The only company with 3D and 5-axis Tool Compensation inside the CNC Controllers. Not just G41 and G42 2D tool comp but new G codes to accomplish simultaneous tool/offset compensation with gouge protection in multiple axes. 3D Volumetric compensation, maps curves and bows in table. On the fly grinding wheel compensation as defined sample period and offset.


Open, Flexible and Easily Customizable.

No proprietary hardware
We use all off-the-shelf PC components
Multiple sources for hardware
Self-maintainable and serviceable
Keep your existing motors and amps
Uses Servo AC, DC, Velocity mode, Current mode, Brush, Brushless, PWM, Stepper or Hydraulic.
Servo loop closed in software or hardware
HMI, CNC, Digital I/O, Analog and Logic in one software package
No third-party SoftPLC language to run or buy
No Visual Basic or C++ required
Open enough for many first time users to do self-installation
Software bundled or unbundled from hardware
API, DLL, ActiveX, Network or RS232
Unlimited real-time data collection
Remote operation and machine monitoring
Self-diagnostics tests for motors, analog, encoders and I/O
Automatic servo tuning software
Table of 199 user-definable G & M codes each
Create and customize G & M codes without using VB or C++
Create and customize hundreds of specialized macro routines
Dozens of logic examples for many types of hardware
Provided Tool changers, Homing routines, Jogging devices, Turrets & Rotary tables
Provided Gear changing, Probes, Hand wheels, Canned cycles & Timed events
Provided Blade/Knife functions & Material height sensing
Visual Mid-program restart reads previous blocks to pick up offsets, tools, speeds and feeds.
Hundreds of fixture, tool and part offsets
Single operating system environment
No need to run or buy third-party kernels or operating systems
Single or Dual CPUs -- one for the HMI and one to close the servo loop
Use a motion card or use a software driver
Industrial or office PCs supported
User-installable and upgradeable
User-configurable operator interface
User-configurable hardware
Add more resale value to your machine than you put into it
Supports user independence


NO external PLC devices or ladder logic is needed.

CamSoft offers a much easier logic programming method using simple commands that are referenced by terminal strip number or descriptive names. This method is preferred by installers who need to diagnose, modify and test the logic before they begin physical wiring. This is the only method that allows remote I/O logic diagnostics via a modem. We have our own I/O logic, which is much easier than learning PLC ladder logic. It even provides for very complex multiple I/O threads whereas ladder logic is sequential and only branches off. Hundreds of every type of command including IF THEN, LOOPS, TIMERS and WAITUNTIL are provided in simple to read text files that compile when the system starts. We use several manufacturers' I/O boards to give a wide choice of inputs/outputs. CamSoft wrote its own assembler drivers to access these cards in the unprecedented 10 KHz range.


What about Documentation?

CamSoft is committed to updating our documentation and do so along with providing product enhancements every Friday afternoon. These weekly updates are not counted as version releases. We believe we have the most completely documented CNC system on the market by far. Written professionally by people with degrees in computer science from Northeastern University graduating Summa Cum Laude. The contributors of the technical information come from many of America's major corporations along with our own technical engineering staff that actually pioneered the PC based CNC industry from its beginnings in the 1970s. We know this business and our product well. The staff is devoted to maintaining the quality, organization and accuracy of the technical content so that it is always updated as hardware & technology changes.

The documentation is massive. We are old fashion and still provide a lot of our documentation in printed form. Depending on the product ordered, there are 2-5 printed manuals (Hardware Wiring Charts, Installation Guide , Customization of Screen Design, IO Logic commands and Internal Functionality, CAD/CAM part design, G codes, Tool Path & Post Processor writing) which average over 400 to 600 pages in each manual plus 3 CDs (approx 1,800 megabytes) of electronic on-line tutorials containing detailed hardware wiring charts, settings, usage information, graphically animated wiring connection tutorials, 4 hour long animated Study Guide and walk through. In addition to this printed and animated movie style documentation there is a Data Base which can be electronically searched that far exceeds the information contained in printed form. It is a quick detailed way to find answers called Search for Solutions on the main CNC Set up window. You can search for answers using key words like a web-browser or else click on the Help-Index Search button on the Search for Solution window to have access to most (not all) of the documentation in the printed manuals. The Search for Solutions window actually contains much more documentation than the printed manuals do, but on the other hand the printed manuals show many more charts and diagrams that the on-line search doesn't. So in essence you need all the printed manuals and CDs to have access to the full documentation.

You may register on our web-site to receive a Newsletters that will keep you up to date.


What about Operator Interface and User Screens?

The user interface can be as feature rich or as simplistic as you want. There are many choices for the person(s) installing the system that will give them full access in setting up the operator screen so that they may create their own desired personal look & feel plus provide separate functionality per each machine operator. There can be several operator screens saved and restored on the same machine that suit each person's taste in the matter of a few seconds. The quality and functions on each of these screens can be as graphically flashy or simple as you want. You may choose to display a modern screen as seen at a tradeshow you recently visited or else display a replica of the original machine interface.

We will provide a generic default operator screen made for your machine based on your description that will be made from a similar machine that someone else already paid for and got working. We remove their company logo and replace the bitmaps they used with more generic images. To dress up the user interface you may browse through our CD which contains hundreds of bitmaps that you are welcome to use. Some very attractive and others plain. Or else you can use a digital camera and take photos of your favorite brand of CNC and paste those images of buttons, light bulbs, knobs, gauges, etc. on the CamSoft screen in the exact same order and layout assigning the same functionally to each control shown. We have over 64+ installers and dealers that also provide on-site installation and application assistance to follow your specifications.
Deal with a company with a large user base that has been in business since 1981 used by America's largest corporations and Universities.
Our hardware / software quality and performance is intended to be run by a commercial business, rather than for use by hobbyist or amateurs.
No bugs.
Buy the hardware & software from one company, no finger pointing.
Have us take responsibility for everything we ship you including cables.
Be able to speak with real live engineers that provide free technical support by phone or e-mail.
The system is expandable in performance, add your own custom features, add or change operator pendant, number of axes, I/O, etc.
We offer an upgrade path that is far beyond others that can meet or beat the performance of a Fanuc 21i, Mitsubishi or Siemens control
Our technical people can customize the operator screen, I/O logic if you didn't want to do it yourself
On-site installation, technical support and training
True Closed Loop, meaning position confirmation and verification by the CNC controller within a user settable tolerance with automatic position error correction. Moves will not be allowed to continue if axes positions are not satisfied within tolerance
Does not share the Windows CPU or Windows Operating System or use Windows drivers to close the servo loop.
A motion card/box that runs independently and separately from Windows to avoid mishaps when Windows gets too busy or locks up.
Our system can do more than one thing at a time. It's like having 15-20 PLCs. Can run a G code program at the same time other user routines or macros run. This avoids these issues: IO is un-reliable. PC misses button pushes, ignores or skips I/O signals. System motion is un-stable, jerky or axes run away.
You do not have to stop cutting to run a user routine or macro process.
The system is still functional if you need to monitor many simultaneous I/O, sensors or events, be on a Network to another computer, run CAD/CAM on the same PC as the CNC controller and will not go crazy if you try to run another program, open Notepad or drag a window with your mouse.
I/O that is expandable to over 400+
You can mix and match almost any American, European or Asian AC, DC, Brush, Brushless, PWM, Hydraulic & Stepper motors, sensors, feedback devices, solenoids coils, I/O relays, physical knobs, push buttons, light bulbs and run this on almost any Windows store bought personal computer. The system is fully user customizable using parts from many sources around the world.
We don't detach ourselves from the hardware. We can often support hardware that is not ours. You're not on your own to piece it together. We offer as much or as little as you want.
We will provide an operator screen for you that is not cluttered with non-functioning items that do not apply to your application
User screens can be made by a novice and clutter removed. Can be as feature rich or as simplistic as you would like using "drag and drop" bitmaps.
User definable operator screens. With easy to use screen designer that does not require a computer programmer, no HTML code, VB Script, C++, Ladder Logic or PLCs to buy or learn or integrate.
A novice can add their own features for special applications.
You can change the words and captions to foreign languages and put you own company logo on the screen to have your own brand identity.
We are both High Speed & Accurate at the same time. You can have both.
Encoder readings are full quadrature, rather than A/B digital pulse trains which are prone to reporting false positioning errors
Circles will be round, rather than egg shaped when the encoder counts or gearing ratios differ between X,Y,Z axis
Splines, arcs and curves cut smoothly. Avoids bad edge quality or random stops and goes, jitter or jerky cutting effects
CamSoft offers high speed cutting. Full 10V analog, PWM or Pulse & Direction signals up to 8,000,000 per second
Multiple mechanical compensation feature to make a rack/pinion or worn ball screw accurate again. Can have thousands of compensation points along each axis, as well as backlash from reversal of direction, twisted or skewed ball screws and 3D Volumetric compensation to account for sagging or warped tables or ways.
Home to index markers for accuracy
More benefits & reasons to go with CamSoft
Comparison Chart to help you find the correct product
Photos of operator interfaces and real machines