Quick Links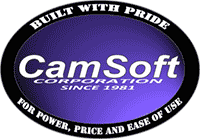 HAVE QUESTIONS?(951) 674-8100
PC Based CNC control software and hardware toolkits for the CNC and general factory automation industries
PC Based CNC control, CNC Controller for the CNC retrofit and CNC Controller OEM market. CamSoft's PC Based Controller is based on open CNC Controller. CNC Retrofits for any CNC Machine type such as CNC Mill, CNC Router, CNC Lathe, CNC Laser, CNC Plasma, CNC Grinder, CNC EDM and CNC Punch Presses.
With CamSoft you may choose to use your existing CNC enclosure and motors or choose from a wide selection of "ready-to-go" CNC enclosures. CamSoft offers everything necessary when using your own Windows-based PC. Desktop controller enclosures, handheld pendants and floor models are available for most machine tools. All software and hardware are also sold ala carte.

CamSoft offers the perfect solution for retrofitting CNC machines by upgrading your current CNC machine tool controller
It begins with either a call to CamSoft to arrange a visit from a CamSoft dealer to do the retrofit for you or many will opt for self installation with proper machine specifications and a willingness and experience to retrofit and trace wires. 90% of the installation involves prepping the machine electrically and mechanically and bringing the wires to the terminal strip provided by CamSoft. The terminal strip is clearly marked and the diagnostic software is accompanied with an automatic servo tuning program. There are several default operator interfaces to select from for all types of machine tools or you can customize your own. The controller can accept many different formats of G & M codes and CAD files.

CamSoft supports a variety of controller alternatives for a variety of cnc machines. We offer a hardware and software toolkit to turn your computer into a CNC controller for mills, lathes, routers, lasers, flame cutters, punch presses, grinders, waterjets, EDM, press brake, and also non cnc factory automation. cnc retrofit cnc retrofit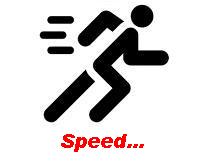 Highest speed motion cards for faster, smoother cutting and the tightest servo loop up to 22,000,000 times a second position feedback and up to 8,000,000 pulses per second output. Rapid speeds up to 120,000 IPM (3,000,000 mmpm). Maximum cutting feed rates range between 60 to 3,000 IPM (1,500 to 76,000 mmpm).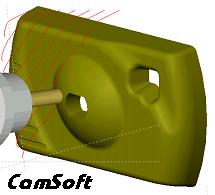 3D Solid modeled graphical tool path animation and cutting verification.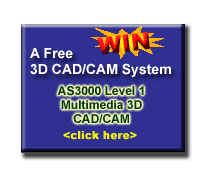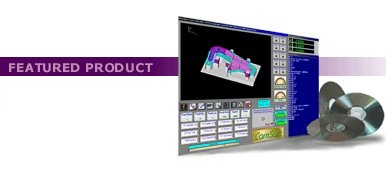 CNC Professional
Version 19



MAJOR price reductions for OEM versions
PC Based CNC Machine Tool Controller For The Machine Tool CNC Retrofit And CNC Controller OEM Market
We have perhaps the industry's fastest and easiest, most full featured CNC controllers for the money offered in today's market.

CamSoft's PC-Based CNC Machine Tool Controller for Windows is a software and/or hardware toolkit that allows you to create and customize your own controller for any 2 to 8 axis CNC machine tool using a standard personal computer or select from one of our touch screen, floor standing or hand held controllers. Whether it is a retrofit or brand new machine tool, CamSoft has the answer for you.

The open architecture and flexibility of the software make CNC Professional perhaps the most advanced CNC controller on the market today at any price. We only use off-the-shelf, low-cost PC hardware components so that spare parts are easy to find in the future.

Our attractive bitmapped-image operator interface coupled with real-time solid modeled tool animation for previewing actual machine cuts before pressing cycle start, is just one of CamSoft's unique advanced features. Together with our 12 CAD Links to turn Graphics to Motion or Picture to Part we can eliminate G code or post processor problems. You may also choose among any number of G code formats since we have a user-definable G and M code table. The future of CNC is now.

The low cost attracts many large and small companies. With over 8,000 plus software packages sold to date since 1981, we also attract new equipment manufacturers with generous discounts.

Patent pending advanced technical features flood our CNC Professional system, while more price conscious buyers are attracted to our CNC Lite and CNC Plus products. With a 100% buy back policy toward upgrades, we keep customers coming back.

Our system design is 100% Windows using dual 32 CPU processors for extra speed, safety and reliability.

The most important attribute with our controller is ease of operator use and reduced installation time. Make the operator screen as feature rich or as simple as you want using bitmapped images. Since the computer itself becomes the PLC and runs the logic and since we include any number of new digital I/O relays or terminal strips required, there is no need to use your time tracing down the old boards, relays or PLCs. This saves days or weeks of work. Besides, with our vast library of dozens of pre-written logic routines available to you for just about every tool changer, jog stick, hand wheel, homing routine, spindle type or probe, you can relax and forget about ladder logic.

With our philosophy of a Universal CNC Logic Programming Language, this means that you only need to learn one system in order to program any machine that moves. Installers who value ease of long term maintenance and want detailed control over every aspect of the operator interface, motion, timers and I/O events should choose CNC Professional.

The esthetics of the user screen is our advantage.

Imagine the prettiest graphics screen that could be created from bitmapped images.

CNC Professional adds solid modeled tool path animation like a video game cutter/flame/beam chewing away at a block of solid material.

The whole screen is a collection of bitmap pictures. This is your operator interface. As feature rich and pretty or else as basic and simple as you would like. This is done by dragging and dropping images that we supply or else you can take with a camera. A computer programmer is not needed. No VB script, No C++, No ladder logic or XHTML code needed. Use check boxes, fill-in-the-blank captions and bitmaps you drag and place using your right mouse button.