Remote machine monitoring with CNC Professional Controllers
iCNC is a web application server that runs along side CamSoft's CNC Professional Controllers to enable remote machine monitoring through a web browser on smartphones, tablets, and PC's. iCNC enables a web interface to the CNC controller leveraging CamSoft's existing technology for remote machine monitoring with CamSoft's ActiveX DLL. With iCNC and an open connection to the Internet, you can now connect your CNC machine to the "Internet of Things".
The webapp that iCNC delivers provides two informational screens and one remote functions screen with up to 4 user definable machine functions. Use iCNC to gather CNC machine data remotely and display the information on a smartphone, tablet, or PC's web browser. Create functions to run on CNC Professional Controller and run those functions remotely from iCNC.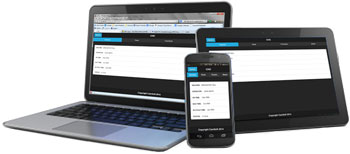 See on your screen:
How many parts were run
Cycle run time
In cycle status
Machine "Idle" time
Mahcine "On" time
Job name
Job number
Feedrate
Spindle RPM
Operator name
And much more...
Example Screens
Customization by CamSoft is likely to be required to conform to your needs