Control various function of your machine with a USB Jog STick controller
A simple idea based on a PC video game controller. Create and customize your own low cost hand held controller. There is no limit to the variety of modes and applications a person could create on their own. Create completely new features and bitmaps that provide instructions to the user right on the screen by graphically labeling the buttons. Great for home-based or hobby shop applications
Not Authorized to be used as emergency stop
Run Auto Mode Shown Plus Eleven Other Modes
Edit / Manual Mode
Run Auto Mode
Single Step Mode
Jog 2 Axis Mode
Jog Single Axis Mode
Jog in Increments Mode
Control Spindle/Laser/Gas/Water/Power
Find Home
Set Job Home
Select Tool
Set Tool Offset
Set Rapid Overide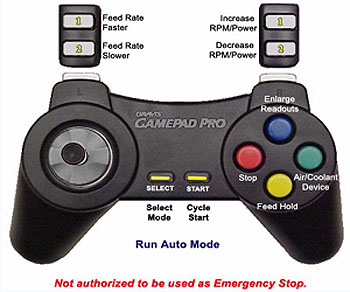 With Jog Stick Controller, the emphasis is on use - not set-up. Everything is right where you want it. And digital power gives you fast, precise response.
10 action buttons (4 primary, 4 flippers, start & select)
Digital directional pad with detachable jog stick handle.
100% digital for accurate and quick response
Plug and play for immediate use
Supports hot plugging
System Requirements
IBM® PC or compatible
Windows® 98, ME, 2000, XP, Vista, 7, 8, or 10 compatible
USB Support
CamSoft Software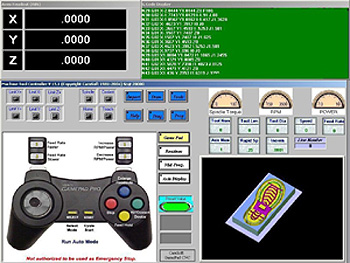 ---
Control various function of your machine with an industrial analog Jog Stick controller
The industrial jog stick is based on a rugged design for digitizing and teaching robots and roll forming application.

The jog stick is highly responsive to small changes in speed and direction. There are between 360 and 3600 directions that are achievable. Accuracy, Direction, Accel, Decel and Velocity are user definable.

The harder you press the joy stick the faster it travels. Direct hand to eye motion with fine motion control allows for manual machining operations and teaching files to be produced to play back later within named job files which are editable.

2 buttons are provided on the Industrial 3D joystick model and up to 10 buttons are accessible on other models for such task as teach and record or start and stop . Button 1 records a single position and button 2 records a stream of data continuously.